Modern Graphic Processing Units (GPU) experience a big hype about their stream processing capabilities. In fact, GPU companies like
AMD
(ATI) and
NVIDIA
invest serious money to transform their former rasterizer hardware into general purpose computation engines. General Purpose GPU (GPGPU) is en vogue and attracts individuals and businesses from completely different application areas. The term GPGPU is synonymous for number crunching, high-performance/super computing, financial monte carlo simulation, etc.
How comes that popularity? The top three reasons for the fast adoption of GPGPU are:
Mainstream availability of the hardware.
While FPGAs are unknown to many people, although they're powering many products. Almost everybody who has used a computer knows about the existence of a graphics adaptor and where to get them.


Low costs (COTS).
GPUs are cheap. Their market is large and very price-sensitive. This is probably not true for top-notch products but even high-end GPUs are low priced compared to super-computing hardware or big FPGA devices.


Well known programming model.
NVIDIA CUDA, ATI Stream and Chronos OpenCL are C-style languages. Their model is similiar to tradional imperative/sequential programming languages. It fits the mindset of many programmers and benefits from a large developer community. The FPGA development flow is fundamentally different, requires hardware knowledge and has a steep learning curve.
Graphic Processing Units (GPUs)
The evolution of GPUs is rooted in the 3D graphics pipeline and was heavily disrupted by the introduction of shaders. Shaders are small programs written in a low-level assembler like language. As the name implies, shaders where used to process pixels and vertices before being rasterized in graphics memory. Figure 1 sketches the general dataflow. Big/small arrows indicate bandwidth capacities between pipeline stages. Vertex and pixel processing stages are composed of several sub-steps. I've omitted them for brevity.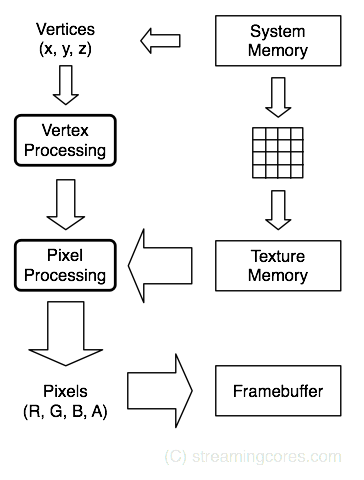 Note, that the GPU can leverage its peak performance only if the data throughput is routed from/to its tightly connected video memory. The bottleneck is obviously the interface to system memory. But this constitutes no penalty for a graphics system. The asymmetric throughput is optimized for generating high resolution images with frame rates greater 30 fps from 3D-primitives. (To define a rectangle of arbitrary size you need two coordinate pairs (x1, y1) and (x2, y2) but the amount of pixels covered by the rendered rectangle on screen (in display memory) is proportional to width times height. You're getting the idea.) Textures and vertices are uploaded in advance before being fed into the pipeline. Each pipeline stage increases the amount of data by adding additional information like surface normals, texture coordinates etc.
Since the fixed-function pipeline was limited to a certain set of pre-defined operations a more flexible and programmable pipeline was derived by introducing vertex and pixel shaders (see figure 2). Shaders were a big win for GPU developers. Programmers regained control over the graphics pipeline and GPU vendors were forced to disclose information about the underlying hardware yielding better and more efficient software.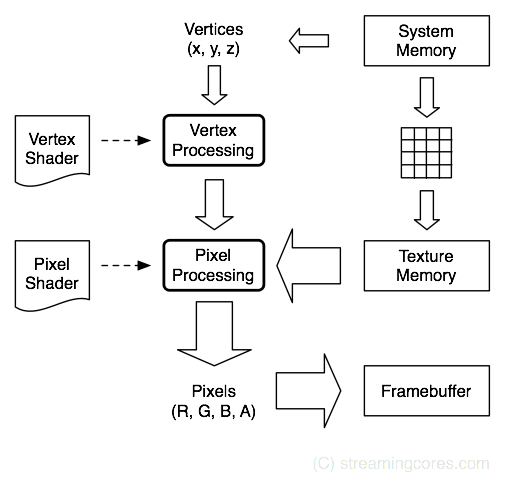 Pixel shaders are often called kernels because they apply the same set of operations to every pixel without knowledge of neighboring pixels. (Vertex shaders work in a similar way but process vertices instead.) This data independency makes them very powerful because multiple kernels can run at the same time without interference. Thus shaders implicitly scale very well (in terms of parallelization) by adding more hardware processing resources. And that's exactly what GPU manufacturers did to meet the demands of their customers: they added more shader processors, introduced vector operations and supported standard floating point formats. They effectively created a new platform for data parallel stream processing.
Field Programmable Gate Arrays (FPGAs)
FPGAs never had a fixed processing pipeline. These devices were not designed for signal or image processing in the first place. Early FPGAs served as glue logic or replaced standard logic ICs. Hence they are categorized as programmable logic.
The internal layout of FPGAs is dominated by a large routing matrix capable of connecting thousands of tiny processing elements called lookup tables (LUT) or function generators (FG). They are arranged in a rectangular grid sometimes called fabric (see figure 3). Each LUT or FG has one or more dedicated flipflops (FF) for storing data or creating deeply pipelined designs. A LUT can generate every logic function from n-inputs (where n is vendor dependent and ranges from 3-6). It can also have accompanying multiplexers or fast lines for carry signal propagation to support arithmetic operations. The routing matrix and LUT functions are freely programmable enabling the FPGA developer to build complex logic. Additional on-chip memory (of several MBit size) can be used for FIFOs or buffering purposes. Lately Multiply-Accumulate (MAC) units were added to the fabric to gain market share of traditional DSPs. High-end devices contain approx. 1000 MAC units. Running all of them in parallel leads to very impressive performance specs.
In theory, these building blocks enable you to build entire CPUs or even GPUs as long as there are enough LUTs. But the evolution of FPGA's went a different way. Programmability comes at high costs. Imagine all the transistors for configuration of the routing matrix or LUTs. And who will start to implement a CPU if you can get microcontrollers with full development toolchain support for single-digit bucks? FPGA vendors reacted by placing commonly used blocks like memory controllers, CPU cores, Ethernet MAC and high-speed serial transceivers (e.g. for PCIe) close to the fabric. No more bandwidth bottlenecks or memory shortage. This clever mix of high-speed IO and arithmetic/logic units turned FPGAs into todays reconfigurable System-on-a-Chips (see figure 4).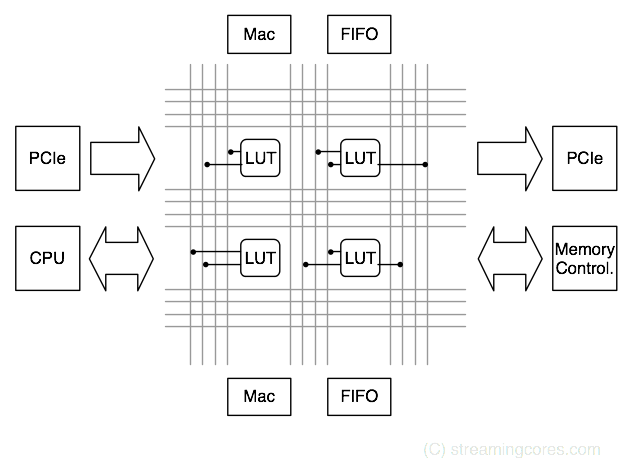 Many ventures tried but two companies dominate the market today:
Xilinx
and
Altera
. Compared to GPU vendors, these companies operate in a completely different market segment and their target audience is not the end customer. They compete with
ASIC
s,
ASSP
s and digital signal processors (DSP). You will find their FPGAs in many electronic systems, primarily in embedded systems e.g. backbone telecom routers. FPGAs are complex semiconductors tailored for specific applications. However, these devices remain freely programmable and reconfigurable. It's the designer defining the internal operation and that makes them so valuable and unique.
Summary
Both technologies, GPU and FPGA, are built for stream processing. Depending on the problem you're facing one or the other may solve it better or worse. Development cycles are usually shorter for GPUs because of their well-known programming model. FPGAs perform better in real-time environments when latencies need to be low. The most significant aspect is that a compiled FPGA design results in real hardware.
But it's not only technical factors constraining your design decision. It requires developers with very specific skills and experience. And those are hard to get...